Brakuje nam mieszkań dostosowanych do potrzeb osób starszych, domów opieki czy domów spokojnej starości. Bariery architektoniczne na osiedlach i w mieszkaniach wykluczają wiele osób z codziennego funkcjonowania i tworzą zjawisko tzw. "więźniów czwartego piętra". Wszystko to rodzi konieczność poważnego potraktowania tematu już dzisiaj. W innym wypadku szybko stanie się on potężnym kosztem społecznym, przy którym problemy ZUS-u okażą się błahostką. Budownictwo senioralne to broń w walce z katastrofą demograficzną, która dotknie większość z nas.
Więcej danych znajdziecie w naszym raporcie Wyzwania Rynku Nieruchomości.
POBIERZ RAPORT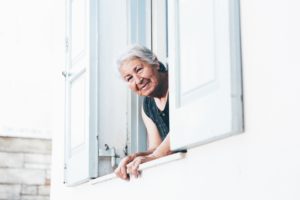 Mieszkania na starość
Do tej pory mało mówiło się o potrzebach mieszkaniowych najstarszych Polaków. Rynek senioralny jest silnie rozdrobniony, a oferowane na nim produkty nie są powszechnie atrakcyjne i dostępne cenowo. Poza zinstytucjonalizowanymi obiektami opiekuńczymi, brakuje przede wszystkim mieszkań dostosowanych do potrzeb starzejącego się społeczeństwa. Do tego znaczna część zabudowy nie spełnia warunków dostępności. Ma to ogromne znaczenie w kontekście popularnych 5-kondygnacyjnych budynków z wielkiej płyty pozbawionych wind. Często mieszkańcami tej zabudowy są osoby urodzone w latach 50., które w najbliższej dekadzie wejdą w okres wieku starczego. Konieczne będzie więc poszukiwanie systemowych rozwiązań poprawiających dostępności osiedli z wielkiej płyty, modernizacja budynków oraz tworzenie równolegle atrakcyjnej alternatywy dla przeprowadzki na starość.
Temat budownictwa senioralnego nie budzi jeszcze w Polsce wielu emocji, a zainteresowanie deweloperów tym sektorem jest niemalże znikome.
Domy opieki
Domy opieki są rozwiązaniem dla osób, które przestały być samodzielne. Ponieważ niejednokrotnie są koniecznością, na rynku występują zarówno instytucje publiczne, jak i prywatne. Miesięczny pobyt w prywatnym domu opieki to koszt od 4 tys. zł w górę. W przypadku państwowych placówek kwoty przekraczające wysokość emerytury seniora przenoszone są na podatników. W systemie opiekuńczym występują też nieliczne Domy Pomocy Społecznej, w których koszty są nieco niższe niż w prywatnych domach opieki, wymagają jednak wpisania się na list osób oczekujących na miejsce. Wraz ze wzrostem odsetka osób w bardzo podeszłym wieku, będzie rosło zapotrzebowanie na domy opieki położone w obrębie dużych aglomeracji miejskich oraz w pobliżu ośrodków rekreacyjnych.

Budownictwo senioralne
Choć w Polsce budownictwo senioralne kojarzy się przede wszystkim z domami opieki dla osób potrzebujących wsparcia, na świecie coraz częściej powstają rozwiązania atrakcyjne dla ludzi dopiero rozpoczynających życie na emeryturze. Podstawowym założeniem domów senioralnych jest zaoferowanie niezależnych mieszkań, zaprojektowanych z myślą o potrzebach osób starszych. Są to z reguły nieco większe kawalerki, segmenty z łazienką dzieloną na dwa mieszkania lub mieszkania dwupokojowe dla małżeństw. To co odróżnia je od pozostałych osiedli, to obecność przestrzeni integracji (ogród, sala spotkań, sala sportowa) oraz towarzysząca im oferta usług dodatkowych. Najważniejsze jest w nich poczucie bycia częścią społeczności i szansa na aktywne życie wśród podobnych sobie osób.
Budownictwo senioralne często jest rozwijane o formułę Assisted Living – połączenie mieszkania, części wspólnych oraz opieki. Skierowana jest ona do osób starszych, które pozostają samodzielne, jednak potencjalnie potrzebują wsparcia. Od niezależnych mieszkań różni je stała dostępność opiekunów, stanowiąca zabezpieczenie na wypadek nagłego urazu. Dodatkowo niejednokrotnie w obrębie obiektu bądź osiedla funkcjonuje przychodnia lub apteka.
Połączenie domu senioralnego z domem studenta przynieść może świetne skutki ekonomiczne i społeczne. Niższe koszty opieki, dostępne mieszkania dla mniej zamożnych studentów – ale też rozwój empatii u młodych osób i dłuższe życie seniorów.
Modele mieszane
Większość rozwiązań rynku prywatnego, ze względu na wysokie koszty obsługi i opieki, oznaczać musi wyższe ceny najmu w domach senioralnych. Mniejsze jednostki mieszkalne oraz testowane na Zachodzie bilansowanie kosztów przez długość pobytu może nie wystarczyć na zapewnienie odpowiedniej jakości obsługi przez cały okres pobytu. Rozwiązaniem mogą być odwrócone hipoteki, które będą opłacać koszty utrzymania seniora. Ich wprowadzenie może zająć jednak trochę czasu i spotkać się ze znacznym oporem społecznym. Jednym z rozwiązań tego problemu jest holenderski przykład połączenia domu seniora z akademikiem. W tym modelu student, w zamian za obniżkę czynszu, opiekuje się jednym z seniorów. Wyniki ekonomiczne są zadowalające – koszty spadają wyraźnie przez obniżenie poziomu dodatkowej opieki. Co jednak ważniejsze, mechanizm wykazał w badaniach wysokie zyski społeczne. Młodzi ludzie zyskują wśród seniorów mentorów i przyjaciół, starsi natomiast dodatkowy sens życia. Dzięki czemu dłużej pozostają w zdrowiu i sprawności.

Projektowanie uniwersalne
Podstawową zasadą projektowania uniwersalnego jest założenie, że przestrzenie przyjazne osobom starszym i z niepełnosprawnościami są przyjazne wszystkim. Z tego powodu wytyczne projektowania uniwersalnego aplikowane są do przestrzeni miejskich, budynków użyteczności publicznej, a ostatnio coraz częściej do obiektów komercyjnych i handlowych. Charakteryzuje je kilka podstawowych zasad. Przede wszystkim, przestrzeń powinna być funkcjonalna i dostępna dla jak najszerszego grona użytkowników. Korzystanie z niej musi być proste i intuicyjne, bez względu na doświadczenie, wiedzę czy zdolności językowe. Projekt powinien sam podpowiadać jak z niego korzystać, nie onieśmielać i nie wymagać skupienia. Dzięki takiemu podejściu jesteśmy w stanie tworzyć obiekty dostępne dla wszystkich.
Nowoczesne technologie nie kojarzą się nam z seniorami, a jednak to one sprawiają, że mieszkalnictwo senioralne staje się bardziej dostępne ekonomiczne, przez mniejsze zapotrzebowanie na obsługę i środki zapobiegawcze, a tym samym niższe koszty obsługi.
Technologie dla seniorów
Osiedla senioralne mogą zapewniać jak najdłuższą samodzielność osób starszych dzięki wykorzystaniu nowych technologii. Narzędzia takie jak smartwatche mierzą ciśnienie i w razie zagrożenia zdrowia przekazują informacje lekarzom. Wideokonsultacje umożliwiają zdalne połączenie się z lekarzem w celu zasięgnięcia porady. Urządzenia i aplikacje są w stanie nie tylko monitorować zdrowie, ale również działać prewencyjnie. Widać to po działaniach firm technologicznych, które widzą w tych rozwiązaniach przyszłość. Google inwestuje w firmę Nest, która pracuje między innymi nad technologią ostrzegającą o zbliżającym się upadku czy zasłabnięciu. Polski startup SiDLY stworzył urządzenie umożliwiające opiekę nad najbliższymi na odległość. Samodzielne funkcjonowanie seniorów wspierają ównież rozwiązania takie jak Siri czy Alexa, które dzięki komunikacji głosowej pozwalają łatwo zdobyć potrzebne informacje lub wezwać pomoc.

Pobierz raport – TUTAJ 
---
Analityk i urbanista, badający przede wszystkim ludzkie oblicza miast i budynków. Przez społeczny pryzmat patrzy również na innowacyjne produkty rynku nieruchomości. Starszy analityk odpowiedzialny za research, raporty i teksty ThinkCo.
Other articles