Sposób spędzenia jesieni życia jest coraz bardziej eksplorowanym polem badań i zainteresowań. Dotychczasowa formuła domów spokojnej starości podąża w kierunku aktywnej starości. Co więcej, można spodziewać się, że co aktywniejsi seniorzy zaczną brać sprawy w swoje ręce nie czekając na gotową ofertę.
Jesień życia bez samotności i izolacji? To było kilkanaście lat temu wspólnym marzeniem kilku dojrzałych kobiet z zachodnich Niemiec. Kamieniem milowym do realizacji celu okazało się nabycie w 2001 majątku ziemskiego w miejscowości Riesa w Saksonii w Niemczech. Teren o powierzchni 150 000 m2 udało się nabyć w korzystnej cenie ze względu na lokalizację w dawnym NRD. Położenie z dala od miasta zabudowania zajmują niemal połowę obszaru składającej się z kilkunastu domów osady wiejskiej.
Seniorzy zaplanowali tam stworzenie kooperatywy. Wspólnota, uważność, odpowiedzialność, szacunek dla przyrody, rozwój osobisty to wartości, na jakich oparły się założenia tego projektu. Które zaczęły przyciągać kolejne osoby spoza kręgu znajomych inicjatorek, tak że po roku wspólnota liczyła już 18 osób. Obecnie w Janishausen mieszka około 50 osób – w tym nie tylko seniorzy, ale również rodziny z dziećmi. Wstąpienie do wspólnoty następuje zazwyczaj po rocznym okresie zamieszkania w celu sprawdzenia wzajemnej akceptacji.
PODSTAWA TO ZAANGAŻOWANIE
Wpisowe w formie udziału (zwrotnego) do spółdzielni w wysokości kilku tysięcy euro. Miesięczny czynsz obejmuje koszty związane głównie z finansowaniem remontów i utrzymania części wspólnych oraz wyżywienia. Jest to koszt rzędu 10€ za metr kwadratowy zajmowanej powierzchni mieszkalnej za dorosłą osobę. Co istotne, seniorzy zdecydowali że Janishausen zorganizowany został na bazie mieszkań o powierzchniach 40 – 100 m2. Więc czynsz nie przekracza nigdy kwoty 1000€.
Seniorzy i młodsi mieszkańcy współtworzą przestrzeń, w której przebywają, choć ze względu na swój wiek niekoniecznie zawsze własnymi siłami. Razem zajmują się ogrodem, który dostarcza ponad połowę warzyw do wspólnego gotowania. Przyjęto, że wspólne posiłki są wegetariańskie, ale jeśli ktoś ma ochotę na potrawy mięsne może je przyrządzić w swoim domu.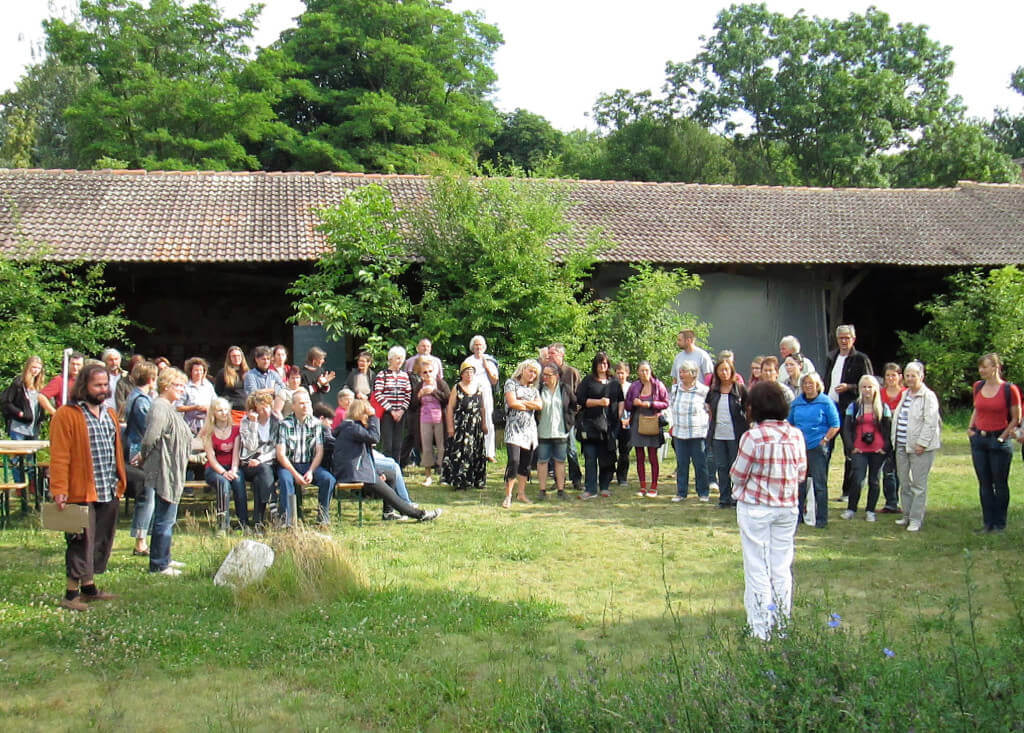 Kilkanaście lat funkcjonowania wspólnoty pokazało, że w Janishausen nie sposób postępować według jakiegokolwiek schematu. Choć niezmienna jest podstawa, którą założyli seniorzy – dobrowolność i zaangażowanie. Rytm życia wyznaczają codzienny wspólny posiłek i spotkania dwa razy w tygodniu. Mimo to każdy dzień, miesiąc i rok niosą coraz to nowe wyzwania związane chociażby ze zmieniającą się liczebnością grupy. Jeśli ktoś czuje się zmęczony ciągłym przebywaniem w grupie, może też na jakiś czas zawiesić swój udział w życiu wspólnoty.
Projekt ten wynika z potrzeby stworzenia miejsca, w którym osoby dojrzałe mogą mieszkać i działać kolektywnie oraz zmieniać się razem z tworzącymi go ludźmi. Cel udało się zrealizować i dzielić się nim z coraz to nowymi ludźmi, którzy tak jak Jurgen Hauer uważają to miejsce za raj na ziemi. Z założenia kooperatywa w której mieli zamieszkać seniorzy stała się domem dla kilku generacji. Oprócz zawiązania się społeczności przyczyniła się do rewitalizacji dziedzictwa historycznego, jakim są liczne zabudowania majątku, które mieszkańcy stopniowo remontowali i adaptowali na cele wspólnoty.
---
We are the first advisory company in Poland specializing in new ideas for real estate. We combine the knowledge of researchers and architects with business world experience, creating innovative processes, products, and services for the real estate market.
We focus on interdisciplinarity. Our specialists come from various environments and represent different experiences, constantly expanding the range of our capabilities and knowledge. The role of ThinkCo is to use this knowledge as an opinion maker in the process of implementation of new solutions on the real estate market.
Other articles