Schyłek życia nie jest łatwym tematem. Dlatego niechętnie go zgłębiamy. Przyglądamy się seniorom, pomagamy im, jednak rzadko kiedy w pełni poświęcamy uwagę wszystkim aspektom ich życia. Obecnie mamy do czynienia ze zjawiskiem "więźniów czwartego piętra". Są nimi wszystkie te starsze osoby, które prowadzą samodzielny tryb życia w popularnej zabudowie blokowej. Od lat nie opuszczają bowiem mieszkań z powodu pogarszającego się stanu zdrowia, który uniemożliwił im swobodne poruszanie się (tytuł fotoreportażu "Więźniowie czwartego piętra" opublikowano na stronie magazynku Pismo w grudniu 2017 roku).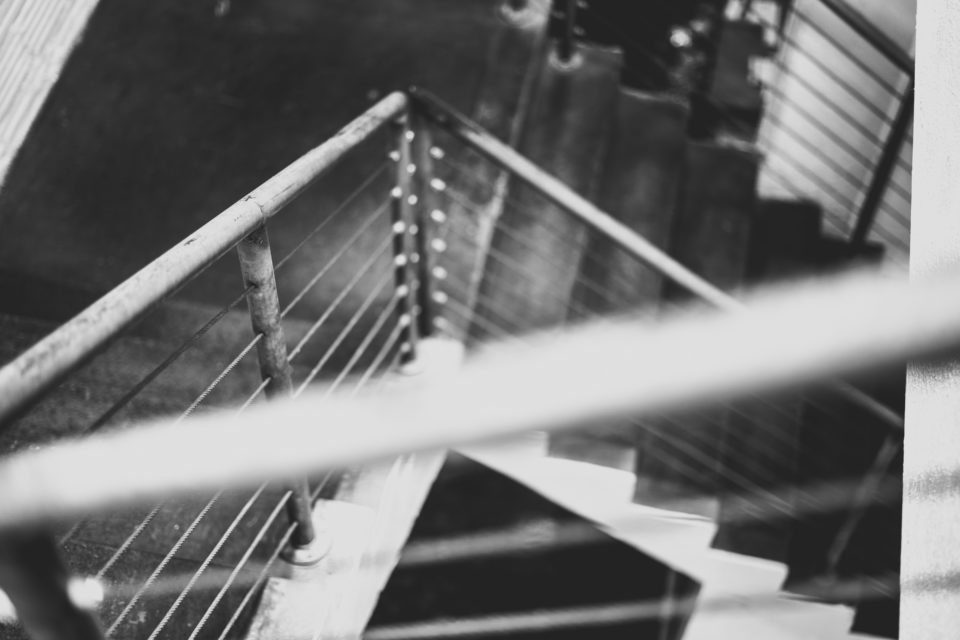 Starsi ludzie, zamknięci w swoich mieszkaniach i odcięci od świata, tracą stopniowo kontakt z rzeczywistością. Samostanowienie oraz samodzielność są wyznacznikiem godności ludzkiej. Z braku wind w budownictwie mieszkalnym progiem do samostanowienia jest często wspomniane czwarte piętro – lub pokonanie jakiegokolwiek piętra. To bariera, od której zależy ludzka samodzielność, a zaczyna się izolacja i więzienie. Obecność wind jest zatem kluczowa dla uczestnictwa w życiu społecznym. Nie każdy senior jest w stanie zamienić mieszkanie na bardziej dostępne, znajdujące się na niższym piętrze.
Między 60 a 69 rokiem życia 35% seniorów odczuwa swoją niepełnosprawność. Między 70 a 70 odsetek stanowi już 46%. Tyle osób wymaga dodatkowej opieki ze strony osób trzecich. Nie mogą się czuć nawet na tyle bezpiecznie i pewnie, żeby samodzielnie ugotować sobie obiad czy pościelić łóżko. We własnych mieszkaniach. Niepewny chwyt, czy nawet udźwignięcie swojego ciała są czyhającymi pułapkami do poczucia pogłębiającego się dyskomfortu. Ich mieszkania, urządzone wiele lat temu, zawierają sporo takich pułapek, które mogą przyczynić się do upadku i w konsekwencji poważnych urazów.
U SIEBIE MIMO WIEKU
W odpowiedzi na te problemy małżeństwo architektów, Agnieszka i Jan Cieśla stworzyli pierwsze w Polsce Wzorcowe Mieszkanie Seniora. Znajduje się na warszawskim Wawrzyszewie w nowym budownictwie i w otoczeniu typowych bloków z czasów PRL. Zaprojektowano je tak, by starsza osoba mogła prowadzić godne i samodzielne życie. Dzięki dostępności windy pokonanie 5 piętra nie stanowi żadnego problemu. Mieszkanie zorganizowano tak, by nawet osoba siedząca na wózku mogła swobodnie manewrować pomiędzy pomieszczeniami, a także bezkolizyjnie opuścić swoje lokum. Za sprawą wysięgnika może dostać się do wieszaka na ubrania. Osoba starsza poruszająca się o lasce może korzystać z poręczy, a także zmieniając buty przysiąść we wnęce.
To w trakcie ruchu, czy przy zmianach pozycji, takich jak siadanie i wstawanie, dochodzi do wielu upadków. Stąd wspomniane mieszkanie dla seniora jest bogate w elementy, które mają niwelować te kolizje. Podłoga antypoślizgowa, świecące listwy w przedpokoju czy wspomniane poręcze zamiast nawykowego i ryzykownego przytrzymywania się ściany. Ważnym czynnikiem wpływającym na komfort życia tuż po 70 roku życia – a co za tym idzie, na samostanowienie – jest niedowidzenie. We wzorcowym mieszkaniu zaprojektowano w tym celu kontrastowe elementy do włączania światła czy wszelkiego rodzaju uchwyty do szaf, szafek.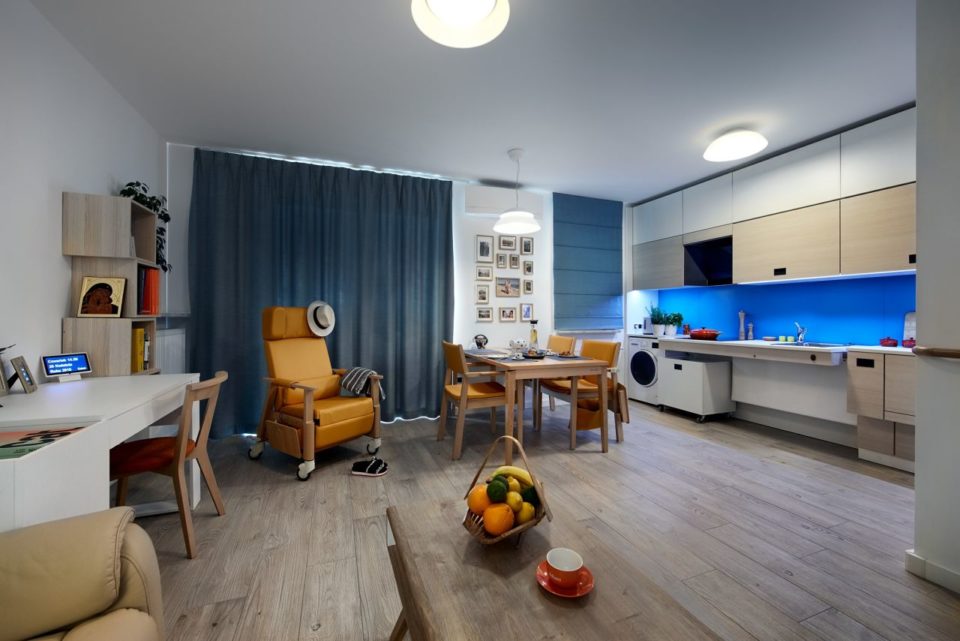 Z badań GUSu opublikowanych w 2011 roku na temat stanu zdrowia ludności Polski wynika, że starsi ludzie mają "największe trudności z kąpielą całego ciała, z siadaniem na krześle, kładzeniem się do łóżka i wstawaniem oraz z ubieraniem się i rozbieraniem". Świadomość, że ciało nie podąży za ruchem, ma tutaj ogromne znaczenie. Obawa przed upadkiem towarzyszy seniorom na każdym kroku.
We wzorcowym mieszkaniu seniora architekci postarali się o to, by zapewnić komfort właśnie przy takich czynnościach. Zatem jest fotel, którego nie trzeba za każdym razem opuszczać, gdy chce się jeszcze dodatkowo zrobić herbatę w kuchni, wziąć talerz czy odebrać telefon. Wiele czynności można wykonać bez koniecznej zmiany pozycji ciała – czyli z pozycji fotela na kółkach. Także kanapa, na której zwyczajowo zapada się ciało ludzkie, może nie stanowić już bariery przy siadaniu i wstawaniu. Zaprojektowana kanapa utrzymuje ciało seniora względnie w pozycji relaksacyjnej, ale także w pewnej gotowości do powstania z niej.
SENIOR: KOMFORT JEST NAJWAŻNIEJSZY
Ponad 80% seniorów w wieku ponad 70 lat uzyskuje pomoc od osób trzecich przy pracach domowych. Żeby mogli sami je wykonywać, potrzebują dostosowanego do swoich potrzeb sprzętu domowego. Choćby inaczej skonstruowane uchwyty na kranach czy półki na naczynia dopasowane do ich wzrostu czy pozycji siedzenia – jeśli poruszają się na wózku, czy o lasce. Takie rozwiązania możemy znaleźć we Wzorcowym Mieszkaniu Seniora. Także łazienka została wyposażona w sprzęt, który niweluje ryzyko poślizgnięcia się czy upuszczenia przedmiotu. Starszy człowiek jest w stanie samodzielnie obsłużyć prysznic i umyć swoje ciało. Przede wszystkim nie ma tutaj standardowej, ale ryzykownej kabiny prysznicowej z progiem do pokonania. Siada on na ruchomym krzesełku, może dosięgnąć prysznica, a także półeczek, na których znajdują się kosmetyki. Także muszla klozetowa została zabezpieczona tak, żeby można się nie tylko przytrzymać, ale też wykonać dodatkowe czynności higieniczne.
Dotychczas rzadko poruszano temat samodzielności seniorów. Skupienie na tym temacie wzrasta, wraz ze zmieniającą się sytuacją demograficzną. Dziś w dużych miastach już ponad 10% mieszkańców ma ponad 70 lat. Zapotrzebowanie na rozwiązania usamodzielniające seniorów będzie się pokrywało z dużymi kosztami na służbę zdrowia i opiekę społeczną, jakie ponosić będzie społeczeństwo. Zaprojektowanie ich już dzisiaj i poszukiwanie pomysłów na przedłużenie życia oraz godne funkcjonowanie na jego schyłku, powinno stać się systemowym planem na kolejne lata.
---
We are the first advisory company in Poland specializing in new ideas for real estate. We combine the knowledge of researchers and architects with business world experience, creating innovative processes, products, and services for the real estate market.
We focus on interdisciplinarity. Our specialists come from various environments and represent different experiences, constantly expanding the range of our capabilities and knowledge. The role of ThinkCo is to use this knowledge as an opinion maker in the process of implementation of new solutions on the real estate market.
Other articles