Wpływ demografii na nadchodzące zmiany społeczne jest niepodważalny. W kolejnych dekadach będziemy mogli zaobserwować zjawisko określane jako "tsunami demograficzne" – Polskę czeka wyraźny spadek liczby ludności, ale też starzenie się społeczeństwa. Porównując z 2015 rokiem, do 2020 roku populacja zmniejszy się o około 280 tys., a do 2030 prawie o milion.
Zestawiając ze sobą dane GUS reprezentujące sytuację demograficzną Polski w 2012 i 2035 roku można łatwo zauważyć starzenie się społeczeństwa. Prawa strona wykresu to obecni emeryci – osoby urodzone do 1945, którym udało się przeżyć II Wojnę Światową. Zaraz za nimi możemy zaobserwować znaczący wzrost liczby ludności będący powojennym wyżem demograficznym lat 1946-60. Osób w tym roczniku jest ok 500-600 tys., czyli dwa razy więcej niż obecnych emerytów – są to ludzie, którzy lada chwila zaczną opuszczać rynek pracy. Koniec wykresu zamyka kolejny niż demograficzny lat 1985-2003, kiedy urodziło się zaledwie 350 tys. osób.
Sytuacja demograficzna Polski w 2015 r. 

Sytuacja demograficzna Polski w 2035 r.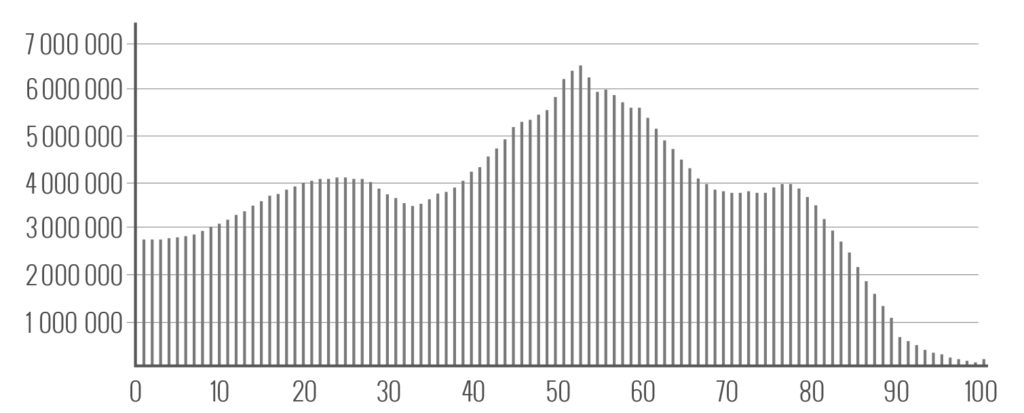 W skali lokalnej dużo ciekawsze są dane wyodrębnione dla poszczególnych ośrodków miejskich, które uwzględniają przewidywane ruchy migracyjne. Do 2035 roku wszystkie miasta poza Warszawą odnotują spadek liczby ludności. W najgorszej sytuacji znajdzie się metropolia śląska (-14%), Poznań (-14%) oraz Łódź (-18%). Możemy przypuścić, że to w tych miastach najbardziej zwiększy się podaż mieszkań z rynku wtórnego. Na poprawę sytuacji na rynku mieszkaniowym będą dodatkowo wpływały: podaż mieszkań budowanych w ramach programów rządowych, inwestycje prywatnych deweloperów oraz indywidualnie budowane domy jednorodzinne. Do negatywnych czynników możemy zaliczyć: zużywanie się zasobu mieszkaniowego, niepewny los masowego budownictwa z wielkiej płyty oraz zwiększające się wymagania odnośnie powierzchni mieszkania przypadającego na osobę.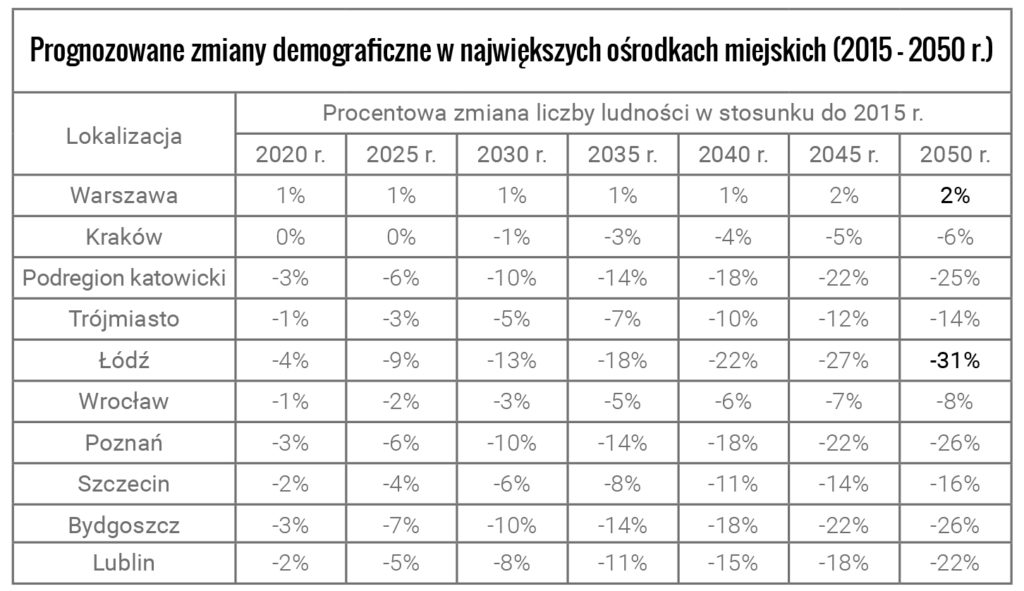 Starzenie się społeczeństwa wpłynie istotnie na rynek pracy, na którym spodziewać możemy się istnego trzęsienia ziemi. Jak wynika z danych GUS, liczba osób w wieku poniżej 40 lat spadnie o ponad 40% (z obecnych 20 mln na około 14 mln), a liczba osób powyżej 65 roku życia wzrośnie o ok. 60% (z obecnych około 5 mln na około 8 mln). W rezultacie do 2035 roku ilość osób w wieku produkcyjnym zmniejszy się o ponad 1,5 mln.
Procentowa zmiana liczby osób w danym wieku w latach 2012-2035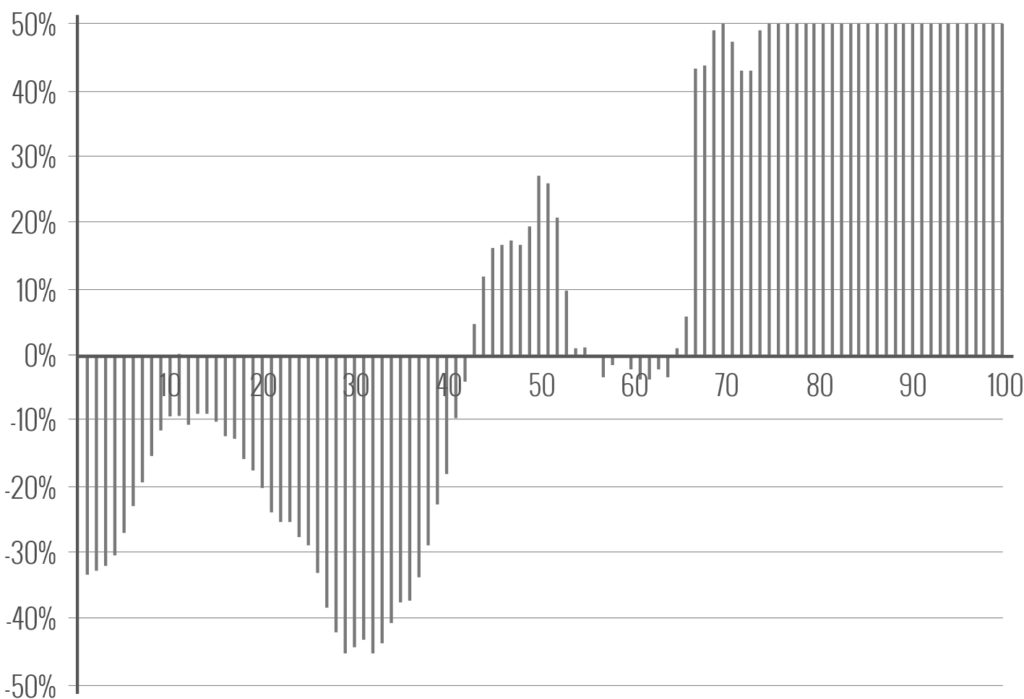 Najgwałtowniejszy spadek zauważymy w grupie w wieku produkcyjnym mobilnym – osób w wieku pomiędzy 18 a 44 rokiem życia zdolny do zmiany miejsca pracy lub zamieszkania, którzy z punktu widzenia pracodawców są najbardziej poszukiwanymi pracownikami. Dodatkowo w latach 2015-25, już wewnątrz tej grupy, największy spadek podaży wystąpi w kategorii wiekowej 15-24 lata (-22,5%) oraz 25-34 lat (-21,5%). Starzenie się społeczeństwa jest tutaj wyraźnie widoczne.
Prognozowana dynamika wzrostu podaży pracy w poszczególnych grupach wiekowych – lata 2015 i 2025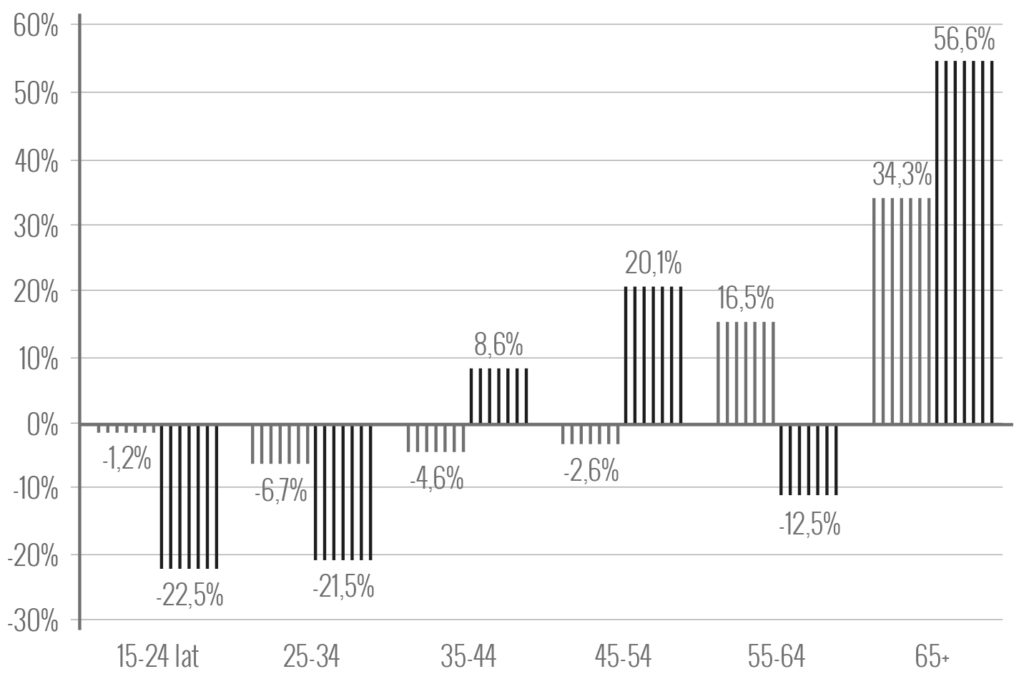 Skoro starzenie się społeczeństwa oznacza spadek liczby osób w wieku produkcyjnym, to wkraczamy właśnie w rynek pracownika, gdzie notować będziemy rekordowo niskie bezrobocie, a młodzi ludzie staną się "towarem deficytowym". Ze względu na bardzo dynamiczny rozwój nowych technologii i poszukiwanie przez pracodawców specjalistów o unikalnych kompetencjach możemy spodziewać się ostrej rywalizacji o najlepszych pracowników. Zacznie się walka o talenty.
---
Obserwator zmieniających się trendów, które pomaga przełożyć na architekturę. Współzałożyciel ThinkCo – real estate research lab, firmy specjalizującej się w analizie rynku i tworzeniu strategii miejsc. Ekspert rynku najmu i inwestycji alternatywnych (prywatnych akademików, colivingów, domów seniora), co potwierdzone zostało w 2019 roku międzynarodową nagrodą Archi-World Academy Award.
Other articles