"Jakie będą trzy największe wyzwania rynku nieruchomości w nadchodzącej dekadzie?"
Tak brzmiało pytanie zadane kilkudziesięciu specjalistom rynku nieruchomości w Polsce. Z jednej strony zależało nam na otwartej formule odpowiedzi. Z drugiej na wyłonieniu najważniejszych zagadnień, które w następnych latach będą przebijały się do debat prowadzonych w ramach rynku nieruchomości.
Otrzymane wyniki są formą barometru. Oczekiwaliśmy odpowiedzi subiektywnych, które stały się dla nas wskazówkami odnośnie tego, co postrzegamy jako potencjalną przyszłość rynku. Uporządkowanie kilkuset odpowiedzi wymagało wypracowania matrycy. Pierwsza selekcja pozwoliła wyłonić siedem kategorii tematycznych: użytkownicy (28,7%), ekonomia (21,6%), technologia (11,9%), mieszkalnictwo (11%), ekologia (9,6%), miasto (9,3%) i prawo (7,7%). Niemal każdy poruszany wątek dotykał kilku z nich, ale zawsze możliwe było też wskazanie kategorii wiodącej dla wypowiedzi. Przed Państwem wyzwania rynku nieruchomości.
Pobierz raport – TUTAJ

Człowiek w centrum uwagi
Przeprowadzenie ankiety pozwoliło nam dostrzec niezwykle istotną prawidłowość. Wszystkie najczęściej powtarzające się wyzwania łączy kwestia potrzeb i oczekiwań użytkowników budynków. Wbrew obiegowej opinii nie chodzi tylko o szeroko omawianych millenialsów i wchodzące na rynek pracy pokolenie Z. Przyczyny leżą bowiem w zmianie oczekiwań wszystkich generacji, które zmieniają się w czasie, dojrzewają i starzeją [5]. Ogromne znaczenie mają skutki kryzysu 2008 roku, który zmienił sposób, w jaki funkcjonujemy w kapitalistycznym systemie gospodarczym. Nigdy wcześniej wsłuchiwanie się i odpowiadanie na potrzeby końcowych użytkowników [1] nie rodziło tak znaczących skutków ekonomicznych jak w przededniu trzeciej dekady XXI wieku.
Początki tych zmian zapoczątkował kryzys gospodarczy, który pokazał jak łatwo stracić posiadane dobra w wyniku niezależnych od nas procesów ekonomicznych i podważył sens lokowania oszczędności w wielu dobrach inwestycyjnych [7]. Kredytowanie długoterminowe również przestało być rozwiązaniem, bo zanim spłacimy zakupiony produkt, ten starzeje się i staje niekonkurencyjny. Coraz mniej się przywiązujemy, coraz chętniej i szybciej dokonujemy zmian [1]. W efekcie nowi użytkownicy, pracownicy, konsumenci i mieszkańcy – ludzie dorastający w XXI wieku – nauczyli się, że korzystanie z usług i produktów w formie abonamentów skraca czas oczekiwania i umożliwia natychmiastowy dostęp [2]. Jednoczesny rozwój rynku subskrypcji dowiódł, że bez względu na to, czy produkt mamy na własność, czy tylko korzystamy z niego przez abonament, efekt końcowy jest ten sam. Własność przestała być koniecznością.

Ostatecznie kryzys wpłynął na nas również pozytywnie – dostępność produktów i usług, a także łatwość ich promocji dzięki nowoczesnym technologiom, spowodowały wzrost oczekiwań użytkowników w niemal wszystkich sektorach gospodarki. Oczekujemy lepszego jedzenia, lepszych hoteli, lepszej komunikacji, lokalizacji i jakości [3]. Chcemy lepszych telefonów i samochodów. Lepszych usług publicznych. Wszystko to sprawia, że tradycyjne rynki szczególnie mocno zmuszone są do ewolucji [4].
Rynek nieruchomości jest uznawany za jeden z najbardziej konserwatywnych, co wynikało przez ostatnie kilka dekad z prostej zasady. Najbardziej innowacyjne i elastyczne muszą być te rynki, które charakteryzują się wysokim ryzykiem utraty płynności aktywów [6]. Rynek nieruchomości zawsze był (i bez wątpienia nadal jest) rynkiem bogatym i stabilnym w ujęciu makroekonomicznym. Nie może jednak lekceważyć potrzeby zmian, bo stabilność i siła rynku nieruchomości od zawsze opierały się na potrzebie własności i wynikającego z niej bezpieczeństwa. Dotychczas kupno mieszkania było oznaką dorosłości i stabilizacji [7]. Wynajem biura na długi okres świadczył o stabilności i rynkowej pozycji firmy. Są to jednak cechy, które ulegają stopniowej zmianie. Dla pokoleń millenialsów i zetów o dojrzałości świadczy odpowiedzialność za rodzinę i środowisko [3]. Zdolność do przeprowadzki w razie zmiany pracy czy przebranżowienia. Możliwość szybkiej zmiany biura na większe w razie wzrostu i mniejsze, gdy metraż staje się zbędny [4].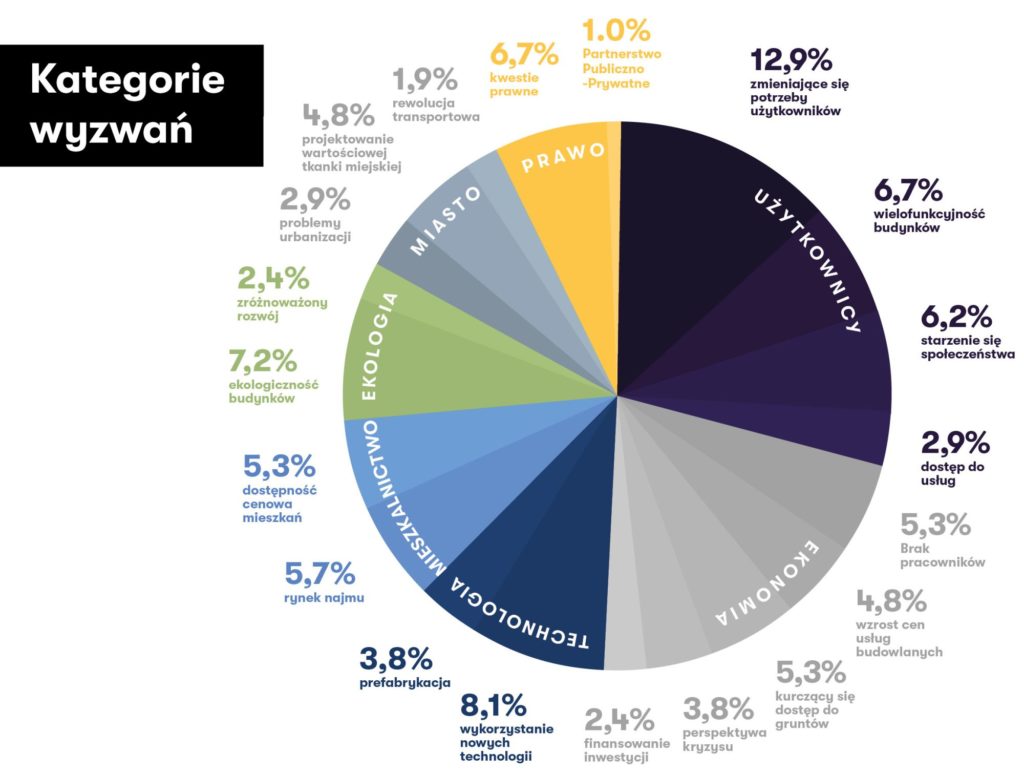 Te nowe, odmienne potrzeby to przykład odpowiedzialności jaką chcemy brać za otaczający nas świat. Długi boom końca XX wieku spowodował nie tylko kryzys gospodarczy, naturalny dla cyklów koniunkturalnych, ale przyspieszył też zmiany środowiskowe i doprowadził do kryzysu klimatycznego [3]. Dziś zaczynamy wykorzystywać technologię [2], by nie tylko oszczędzać nasz czas i koszty pracy, ale też chronić środowisko – poprzez usprawnianie transportu publicznego, dostarczanie odpowiednich usług na bazie zebranych danych, niwelując smog czy promując zrównoważone budownictwo. Również z przyczyn środowiskowych decydujemy się na współdzielenie produktów, które kiedyś koniecznie chcieliśmy mieć na własność [1]. Bo mniej własności, to mniej produkcji i w efekcie mniej kosztów środowiskowych – a także wyższa jakość, recykling materiałów, krótsze łańcuchy dostaw i wynikający z konkurencyjności rynku wzrost jakości tradycyjnych form własności i usług [4].
Wszystkie te tematy stanowią podsumowanie zagadnień poruszonych przez ankietowanych ekspertów. Siedem najczęściej pojawiających się wątków zostało rozwiniętych w dalszej części publikacji. Należą do nich: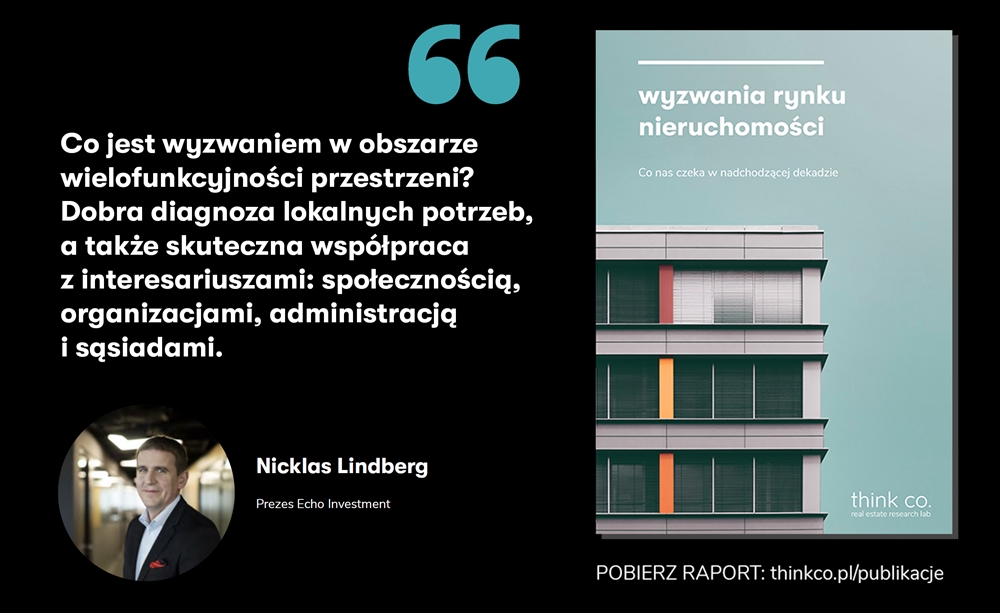 Pobierz raport Wyzwania Rynku Nieruchomości – TUTAJ
---
Obserwator zmieniających się trendów, które pomaga przełożyć na architekturę. Współzałożyciel ThinkCo – real estate research lab, firmy specjalizującej się w analizie rynku i tworzeniu strategii miejsc. Ekspert rynku najmu i inwestycji alternatywnych (prywatnych akademików, colivingów, domów seniora), co potwierdzone zostało w 2019 roku międzynarodową nagrodą Archi-World Academy Award.
Other articles