Zrównoważony rozwój w budownictwie to nie tylko certyfikaty, ale też strategiczne myślenie o inwestycjach. Produkcja odpadów w trakcie procesu budowlanego odpowiada za 30% wytwarzanych w gospodarce śmieci. Również w trakcie życia budynków, zwłaszcza komercyjnych, ilość wytwarzanych odpadów jest trudna do zagospodarowania. Przez wiele lat promowana była bezustanna konkurencja na lepsze, nowsze, bardziej współczesne. Dzisiaj w obliczu coraz większej świadomości ekologicznej, użytkownicy będą wybierali rozwiązania w mniejszym stopniu oddziałujące na środowisko.
Najbliższa przyszłość oznacza nie tylko ciągły wzrost oczekiwań wobec nowego budownictwa, ale też coraz częstsze wykorzystywanie wtórne materiałów budowlanych, urządzeń i mebli. Coraz częściej będziemy też modernizować, zamiast rozbierać. Kolejne elementy naszego życia, pracy i wypoczynku będą włączane w cykl ekonomii cyrkularnej.
Betonowo-szklane dżungle przestały być synonimem nowoczesnego miejsca pracy. Skutki gospodarki opartej na węglu oraz złego planowania miast odczuwamy powoli, jednak coraz wyraźniej. Namacalnie dostrzegamy konsekwencje zarówno latem (wyspa ciepła, brak przewietrzania), jak i zimą (widoczny w powietrzu smog). Dlatego jeśli budynek ma być nowoczesny u progu trzeciej dekady XXI wieku, musi pokazywać to we wskaźnikach zużycia energii i wody. Ponadto, w ramach możliwości lokalizacji i wielkości działki, powinna otaczać i wypełniać go prawdziwa roślinność.
Czy zrównoważony rozwój w budownictwie będzie niedługo tematem numer 1? W ankiecie przeprowadzonej wśród ekspertów rynku, ekologiczne rozwiązania na rynku nieruchomości zostały wskazane jako jeden z czynników kształtujący nadchodzące zmiany. O najważniejszych z nich przeczytacie poniżej lub w naszym raporcie Wyzwania Rynku Nieruchomości (POBIERZ RAPORT)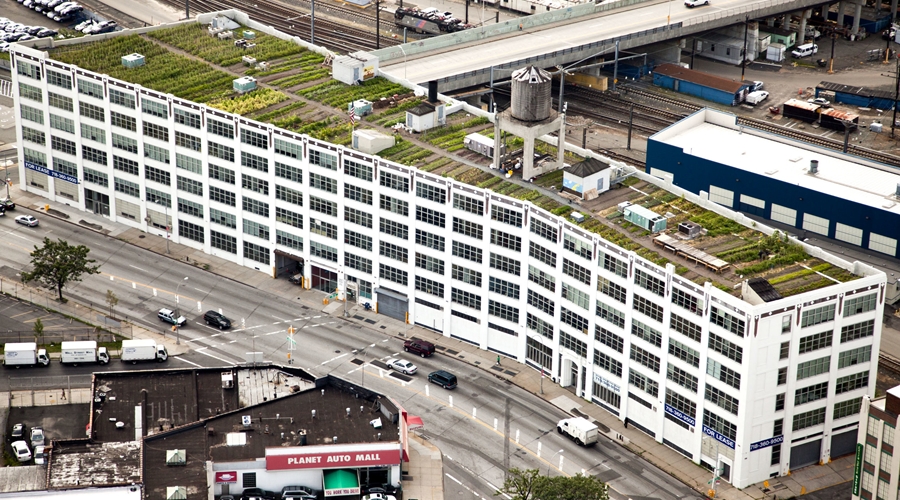 Zielone dachy stają się normą
Korzyści użytkowe ze stosowania zielonego dachu sprawiły, że stały się jednym z modniejszych trendów w ramach zrównoważonego budownictwa. Pozwalają bowiem wygenerować znaczną oszczędność w użytkowaniu – nawet 80% niższe koszty klimatyzacji i do 20% niższe całkowite zużycie energii w obiekcie. Mają też właściwości retencyjne, co pozwala mu spowolnić spływanie z dachu wód opadowych. To istotne w obliczu wydłużających się okresów suszy i rzadkich, ale intensywnych deszczy, które są w stanie nie tylko zniszczyć mienie publiczne, ale też wstrzymać procesy gospodarcze powodując znaczące koszty. Popularyzacja zielonych dachów sprawia, że stają się również płaszczyzną dla rozwoju innych ekologicznych konceptów, takich jak choćby urban farming. Potencjał dachów, jak wskazują praktyki z zachodu, daje bowiem możliwości hodowania na dachach budynków pełnowartościowych warzyw i owoców.
Korzyści podatkowe i wzrost wartości
Zapotrzebowanie na roślinność w mieście jest coraz większe, dlatego niektóre samorządy już dziś decydują się zachęcać deweloperów do wykorzystywania zielonych rozwiązań. Przykładem może być Wrocław, gdzie zwolniono od podatku od nieruchomości budynki, które wyposażone zostały w wielowarstwowy zielony dach o warstwie wegetacyjnej nie mniejszej niż 40 cm. Miasta zwracają również uwagę na inne korzyści, takie jak wzrost wartości obiektów, redukcja zapotrzebowania na energię, czy zmniejszenie emisji CO2. Firmy z branży nieruchomości mogą budować na tym swój marketing, przy okazji oddziaływując pozytywnie na środowisko.

Budownictwo modułowe to rozwiązanie znane od dawna, jednak w ostatnich latach na nowo zyskuje na wartości. Po pierwsze – budowa z prefabrykatów jest szybsza, a przez to mniej narażona na ryzyko wahań cen materiałów budowlanych. Po drugie – jest bardziej ekologiczna, ponieważ produkuje znacznie mniej odpadów. Na Zachodzie i w krajach skandynawskich największe zainteresowanie prefabrykacją dostrzegalne jest na rynku nieruchomości komercyjnych oraz w budownictwie na wynajem, gdzie czas oddania budynku do użytku przekłada się na szybsze przychody z czynszów. Prefabrykacja sprawdza się również bardzo dobrze w budownictwie jednorodzinnym, gdzie niemal zawsze modułowość idzie ręka w rękę z pasywnością. W Polsce najbliższe lata będą sprzyjały rozwojowi prefabrykacji głównie w sektorze budownictwa wielorodzinnego i komercyjnego.
Architektura proenergetyczna
Budownictwo pasywne przestało nam wystarczać. Dziś rosną oczekiwania, by budynki nie tylko nie zużywały energii, ale wręcz produkowały ją w nadmiarze i dzieliły się nią z okoliczną zabudową. Dlatego z coraz większym zainteresowaniem przyglądamy się panelom solarnym, które dają największy potencjał zbierania znacznej ilości naturalnej energii. Ogniwa krzemowe uzyskują największą wydajność, jeśli ustawi się je pod odpowiednim kątem, by ich powierzchnia jak najdłużej pokryta była promieniami słonecznymi (co można rozwiązać również za pomocą ciekawej architektury). Na rynku zaczynają pojawiać się również nowoczesne półprzezroczyste supercienkie panele z perowskitu, które uzyskują podobną wydajność co krzemowe, jednak nie wymagają przy tym określonego kąta padania światła, by móc wytwarzać energię. Dzięki temu rozwiązaniu możliwe staje się instalowane ich na dowolnych dachach i elewacjach budynków.

Solary na wynajem
Wysokie koszty nowoczesnych technologii niejednokrotnie blokują wzrost ich popularności – choćby dlatego, że wpływają na finalną opłacalność zakupu. Metodą walki z tą barierą, tak jak w przypadku motoryzacji, jest sprzedaż w formie ratalnej, leasing operacyjny lub po prostu wynajem abonamentowy. Tak dzieje się również z panelami solarnymi, które w kilku stanach USA można wynająć abonamentowo na czas nieokreślony z miesięcznym wypowiedzeniem. Koszty montażu są darmowe, trzeba natomiast zapłacić za dezinstalację w przypadku wypowiedzenia umowy.
Energetyka w detalu architektonicznym
Producenci materiałów budowlanych i elementów wyposażenia prześcigają się w zakresie rozwiązań proenergetycznych. Na rynku pojawiają się coraz nowocześniejsze rozwiązania, takie jak płyty posadzkowe generujące energię elektryczną i zbierające dane do statystyk liczby osób korzystających z budynku. Pojawiły się też drzwi wykorzystujące ruch obrotowy do wytworzenia energii w budynku. Najwięcej uwagi poświęca się jednak kwestii paneli solarnych. Instalacje PV montowane na dachach domów i bloków mieszkalnych bardzo często zaburzają estetykę obiektu nadmiarem kolektorów lub ich niedokładnym montażem. W odpowiedzi na te problemy powstają nowe, wydajniejsze i milsze dla oka rozwiązania. Na zagranicznych rynkach europejskich panele BIPV stają się elementem twórczości architektonicznej, gdzie ich kolor, liczba i rozmieszczenie modułów zaplanowane są specjalnie na potrzeby projektu. Zaczynają być nie tylko źródłem energii, ale i nowym rodzajem detalu architektonicznego.

Pobierz raport – TUTAJ
---
Partner zarządzający i szef strategii w ThinkCo. Architekt, badacz i publicysta. Specjalizuje się w analizowaniu przestrzeni usługowych i programowaniu inwestycji Mixed Use. Pasjonat zmian generacyjnych, zwłaszcza różnic miedzy pokoleniami X i Y. W zespole odpowiada za wdrażanie metodologii UX w świecie architektury. Doświadczenie związane z rynkiem nieruchomości i budownictwem zdobywał jako projektant, broker, dziennikarz i urzędnik.
Other articles