W jaki sposób powinniśmy myśleć o mieszkaniach dopasowanych do różnych etapów życia? Każdy z nich charakteryzuje się innymi potrzebami, które zmieniają się wraz z wiekiem. I takie też powinny być mieszkania – dobrze zaprojektowane, ergonomiczne i łatwe w użytkowaniu. Jednym z takich wyzwań jest projektowanie mieszkań dla seniorów.
Dobry dizajn powinien być zawsze poprzedzony rozpoznaniem potrzeb osób, które mają z niego korzystać. Dlatego dobre realizacje można ocenić dopiero po ich przydatności w czasie oraz opiniach użytkowników. Prawdziwy dizajn znajdziemy często tam, gdzie byśmy się go nie spodziewali – w ergonomicznym uchwycie czy dopracowanym doświetleniu wnętrza. Prostych, codziennych rozwiązaniach ułatwiających nam życie na każdym kroku. Ale czy wysokiej jakości dizajn może być równocześnie tani i dostępny? Na to pytanie odpowiada projekt "Dom" autorstwa Marty Murawskiej-Omaleckiej.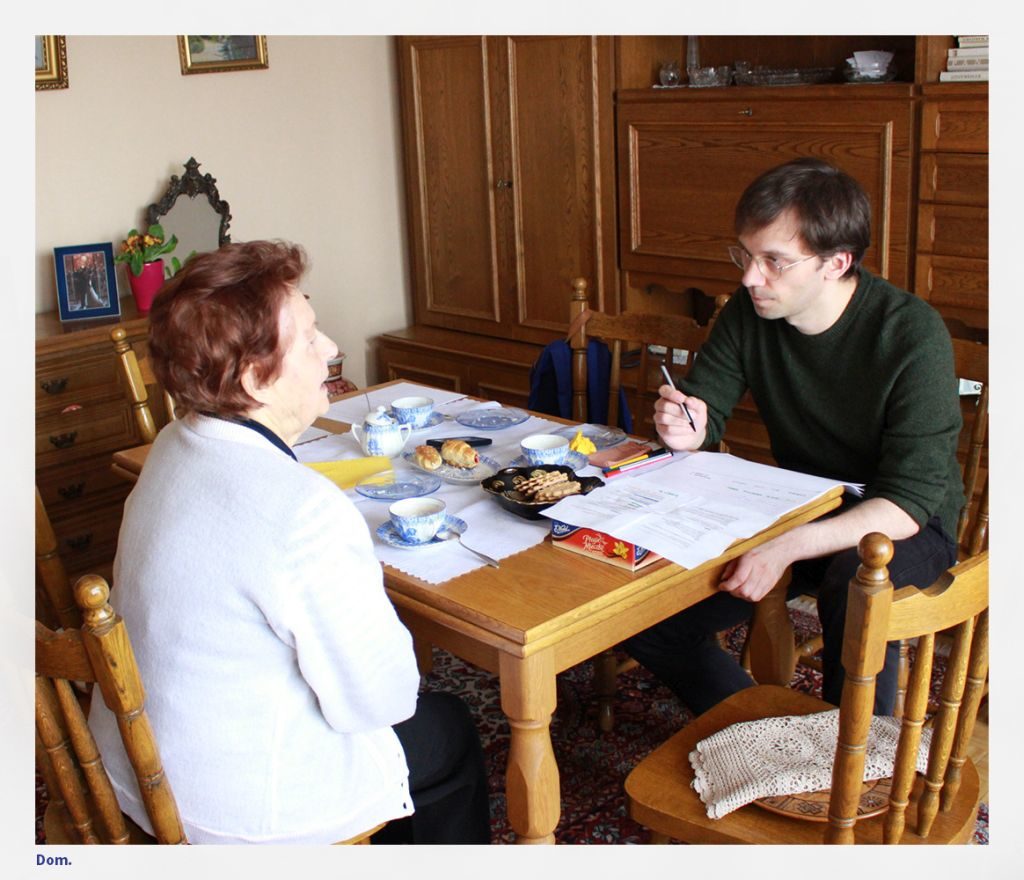 Projekt powstał przy współpracy projektantki Marty Murawskiej-Omaleckiej z Towarzystwem Inicjatyw Twórczych "ę", firmą Sanofi oraz z podopiecznymi Stowarzyszenia Mali Bracia Ubogich. To Ci ostatni udostępnili na czas badań swoje mieszkania i zechcieli wypróbować nowe rozwiązania. Wśród nich znalazły się starsze osoby z niesprawnością ruchową, niedowidzące oraz niedosłyszące. W związku z tym każda miała innego rodzaju potrzeby oraz inne pomysły na usprawnienie swoich mieszkań. Pragnienie samodzielności jest wśród osób starszych jest tak duże, że odpowiedzią nie powinna być wyłącznie pomoc drugiej osoby, tylko zapewnienie im takiego zestawu rozwiązań aby mogły jak najdłużej samodzielnie pozostać sprawne.
BADANIA
Kluczowe dla prostych rozwiązań były badania przeprowadzone przez projektantkę oraz badaczy w domach ochotników. Poznanie ich zwyczajowego planu dnia, nawyków oraz dokładne zmapowanie ograniczeń ruchowych było podstawą dla późniejszej pracy koncepcyjnej. Priorytetem było dostarczenie rozwiązań dopasowanych do konkretnych problemów.
Według Marty Murawskiej-Omaleckiej to nie zaprojektowanie mebli miało wpłynąć na poprawę jakości życia mieszkańców. Obserwacje z ich życia zawarto w specjalnie do tego celu stworzonych Mapach Dnia odzwierciedlających każdą z codziennie wykonywanych czynności – przede wszystkim dawały ogląd rzeczywistych problemów związanych z używaniem podstawowego sprzętu domowego. Mapy Dnia pozwoliły także wybrać kluczowe problemy, aby potem dopasować do nich rozwiązanie.
Stworzone Mapy Dnia pokazały podstawowe ograniczenia osób starszych, takie jak, ograniczony zasięg w schylaniu oraz problemy z dosięgnięciem do wyższych półek (tradycyjna kuchnia zawiera dużo wysokich mebli niedostępnych dla takich osób). To właśnie kuchnia oraz łazienka wraz z wiekiem lokatorów zaczynają ich przerastać. Pokazano też, że usunięcie z nich pewnych sprzętów, obniżenie szafek, czy zamiana wanny na prysznic, mogą drastycznie podnieść komfort użytkowania mieszkania na starsze lata.

NIEOCZYWISTE PRZESZKODY
Zmapowano również inne, mniej oczywiste przeszkody:
– Dla osób mających problemy z chodzeniem, to przede wszystkim brak poręczy przy ścianach oraz konieczność częstego przemieszczania się pomiędzy pokojami. Rozwiązaniem w takim przypadku może być stół umożliwiający zjedzenie posiłku w kuchni bez konieczności przenoszenia go do pokoju.
– Przybory kuchenne należałoby schować w taki sposób, aby można było sięgnąć po nie bez potrzeby schylania się. W tym celu do kuchni została wstawione ruchome przyborniki na kółkach, które można schować pod blatem.
– W łazience zamiast kosztownego remontu i dostosowywania jej do potrzeb osoby starszej wstawiono obrotowe siedzisko na wannę (zakupione w sklepie), aby móc wesprzeć się przy codziennym wchodzeniu i wychodzeniu.
– Dla osób niedowidzących zastosowano rozwiązania z wypukłymi kolorowymi oznaczeniami na różne sprzęty, które wykorzystywały inny zmysł niż wzrok.
Pomysły na rozwiązania powstały podczas warsztatów kokreacyjnych, w których brali udział nie tylko osoby starsze, ale też pomysłodawcy tych rozwiązań. Możliwość szybkiego zweryfikowania danego pomysłu (każda propozycja była konsultowana z właścicielkami mieszkań) pozwalała na sprawne działanie i koordynowanie prac na miejscu. Dzięki temu udało się wprowadzić proste ale innowacyjne rozwiązania, które bardzo mocno podniosły jakość życia uczestniczek projektu.
---
We are the first advisory company in Poland specializing in new ideas for real estate. We combine the knowledge of researchers and architects with business world experience, creating innovative processes, products, and services for the real estate market.
We focus on interdisciplinarity. Our specialists come from various environments and represent different experiences, constantly expanding the range of our capabilities and knowledge. The role of ThinkCo is to use this knowledge as an opinion maker in the process of implementation of new solutions on the real estate market.
Other articles