Technologia wpłynęła na dostęp do informacji, wiedzy i kultury. Ewoluuje charakter naszej pracy oraz sposób w jaki do niej docieramy. Nie dziwi więc, że zmieniają się również budynki, z których korzystamy. Nie jest to oczywiście pierwszy raz, kiedy rynek nieruchomości przechodzi proces redefinicji. Przez ostatnie kilkadziesiąt lat kilkukrotnie zmieniał się charakter naszych mieszkań, biur czy miejsc handlu.
Jesteśmy tego coraz bardziej świadomi, więc coraz więcej inwestuje się w budynki wielofunkcyjne. Co to oznacza? Przeczytacie o tym poniżej i w naszym raporcie Wyzwania Rynku Nieruchomości.
POBIERZ RAPORT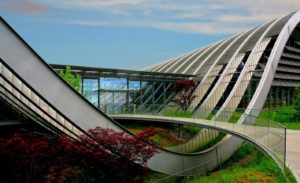 Ewolucja tradycyjnych form
Wyraźne nasycenie się rynku handlu wielkopowierzchniowego już w ostatnich dwóch latach wyhamowało nowe inwestycje na rzecz modernizacji starzejących się obiektów. Aktualne zapowiedzi inwestycyjne nie wskazują na zmianę tego kierunku. Pokrywa się to z oczekiwaniami młodych ludzi i zmieniającymi się potrzebami starzejących się pokoleń. Coraz mniejsze znaczenie ma skala budynku, coraz większe atrakcyjność oferty rozrywkowo-gastronomicznej, komunikacyjna dostępność i lokalny charakter brandu. Podobnie dzieje się z rynkiem biurowym, który po 30 latach od transformacji dogonił rynki zachodnie. Biurowiec klasy A, by nie tracić z czasem na atrakcyjności, musi być od początku przygotowany na potencjalną modernizację. Niezwykle ważna jest też jego wrażliwość cyfrowa oraz gotowość do adaptacji nowych technologii. Coraz większe znaczenie mają też usługi uzupełniające dostępne w ramach budynku.
Elastyczność funkcji
Konstrukcje budynków okazują się znosić więcej niż przewidywaliśmy w XX wieku. Badania z połowy zeszłej dekady dowodzą, że budownictwo z wielkiej płyty, projektowane na 60 lat, wytrzyma trzy razy dłużej. Nawet żywotność lekkich konstrukcji bez większego problemu osiąga czas 50 lat. Natomiast zmiany sposobu korzystania z budynków, czy standardy określonych funkcji, zmieniają się średnio co dwie dekady. Dlatego by utrzymać wartość nieruchomości i gwarantować atrakcyjność przyszłym właścicielom, koniecznością staje się projektowanie budynków tak, by brać pod uwagę ich przyszłość. Potrzebne nam są budynki wielofunkcyjne. Niejednokrotna zmiana funkcji, upcykling lub recykling budynków, tworzenie przestrzeni elastycznych – o to co czeka nas w najbliższych latach. Wiele wskazuje na to, że nowa dekada pełna będzie niedrogo adaptowalnych biurowców.

Adaptacje budynków
Jeszcze do niedawna oczywistym było, że zakup działki zabudowanej obiektem o lekkiej konstrukcji – choćby biurowcem typu Lipsk – skończy się jego szybką rozbiórką i powstaniem nowego, atrakcyjniejszego budynku. Koszty zatrudnienia wzrosły jednak tak znacząco, że rozbiórka i ponowna budowa niejednokrotnie jest nieopłacalna. W ostatniej dekadzie polski rynek nieruchomości uczył się skutecznych adaptacji, odnawiając budynki mieszkalne z okresu powojennego czy przekształcając stare fabryki i magazyny na loftowe biura, mieszkania i obiekty handlowe. W najbliższych latach wykorzystywać będzie te doświadczenia w celu adaptowania budynków znacznie młodszych – już od jakiegoś czasu dzieje się to właśnie z budynkami biurowymi z czasów PRL, jednak niebawem dotykać zacznie również zabudowy z boomu budowlanego lat 90., której dotyka coraz większy wakat strukturalny.
Obiekty hybrydowe
Obiekty jednofunkcyjne przestają wystarczać bez względu na to, kiedy powstały. Wielofunkcyjność smartfonów nauczyła nas, że chcemy mieć pod ręką wszystko. Idąc do pracy chcemy zjeść w okolicy obiad, poćwiczyć na siłowni i zostawić dziecko w przedszkolu. Przy okazji robienia zakupów potrzebujemy bawialni, kina, dużej oferty gastronomicznej, ale też miejsca by popracować lub poczytać w spokoju książkę. Budynki wielofunkcyjne to też konieczność krzyżowania rozwiązań często pozornie sobie sprzecznych – jak prywatność i współdzielenie, praca i wypoczynek. Z jednej strony musimy więc zadać sobie pytanie jak budować, by odpowiadać na nowe potrzeby i być gotowym na dalsze zmiany. Nie bez znaczenia jest przy tym klimat miejsca, obecność zieleni i dostęp do transportu publicznego. Z drugiej strony, wyzwaniem jest też marketing wielofunkcyjnych hybryd – budowanie efektywnej komunikacji, wybór kanałów medialnych czy planowanie budżetu.

Zespoły mixed-use
Chociaż pierwsze duże realizacje zespołów wielofunkcyjnych w Polsce to zdecydowanie sukces ostatniej dekady, to w najbliższych latach doświadczać będziemy zintensyfikowania tego trendu. Kończący się dostęp do gruntów w centrach największych miast stał się naturalną motywacją do planowania zespołów typu mixed-use. Obecność w jednej lokalizacji zabudowy mieszkaniowej, biurowej i usługowej w naturalny sposób podnosi wartość każdej z nich. Ze względu na lokalizację w bliskości centrów miast, w ostatnich latach istotną rolę grały procesy rewitalizacji przestrzeni poprzemysłowych, takich jak Koneser, SOHO by Yareal, Browary Warszawskie czy Fuzja w Łodzi. Wyzwaniem kolejnej dekady będzie już nie tylko adaptacja zabudowań fabrycznych, ale też terenów portowych, pokopalnianych czy dworcowych.

Pobierz raport – TUTAJ 
---
Analityk i urbanista, badający przede wszystkim ludzkie oblicza miast i budynków. Przez społeczny pryzmat patrzy również na innowacyjne produkty rynku nieruchomości. Starszy analityk odpowiedzialny za research, raporty i teksty ThinkCo.
Other articles