Świat, w którym się właśnie znaleźliśmy, jest radykalnie inny od tego sprzed tygodnia – nie ma powrotu do tego, co było. Przymusowa izolacja sprawiła, że zmieniły się nasze codzienne nawyki. Żyjemy bardziej lokalnie oraz wspólnotowo i z większą odpowiedzialnością za innych. Jak wyglądać będzie nasze życie po koronawirusie?
Przestaliśmy podróżować i żyjemy lokalnie. Nie latamy samolotami, mniej z nas dojeżdża codziennie do pracy. Jeśli nasza praca jest w większości pracą intelektualną, to dzięki technologii możemy pracować zdalnie z domu. Mamy dostęp do danych w chmurze, więc nie musimy jeździć do biura. Zresztą i tak byśmy do niego nie weszli. Telekonferencje zastąpiły spotkania twarzą w twarz, a wiele z nich zostało odwołanych – wystarczą ustalenia mailowe albo krótki telefon. Bardziej elastycznie możemy planować swój dzień. Jak nie musimy, to nie ruszamy się z domu. Mamy też więcej czasu dla siebie i swoich bliskich (czasami więcej niż jesteśmy w stanie znieść). Granica między życiem prywatnym i zawodowym jest coraz bardziej płynna. Codzienna logistyka i planowanie dnia nabierają innego znaczenia.
Ale to nie wszystko. Zmienia się nie tylko nasze życie domowe i rodzinne. Jako lokalne społeczności stajemy się coraz silniejsi i bardziej zaangażowani. Poznajemy lepiej sąsiadów i sąsiadki, których wcześniej znaliśmy jedynie z widzenia (albo nie znaliśmy w ogóle).
Wiele działań i decyzji, które dotychczas były indywidualną kwestią – stają się wspólną sprawą: jedzenie, zdrowie, mobilność. Ta wymuszona wspólnotowość, która przez jednych jest przyjmowana entuzjastycznie, dla innych jest męcząca.
Jednak bardzo szybko okazuje się, że aktywne lokalne życie społeczne, a zwłaszcza wsparcie jakie ono daje, zaczynają doceniać również osoby, które początkowo były sceptyczne. Nowy typ relacji społecznych okazuje się lepszą receptą na szczęśliwe życie. W obliczu zagrożenia i izolacji – samotność to przekleństwo.
Tak właśnie wygląda scenariusz na najbliższe dwa tygodnie. Część z nas testuje go już od kilku dni, zastanawiając się co dalej. Chociaż siedząc bezpiecznie w domu warto pamiętać, że nie wszyscy mają komfort schować się przed światem, bo muszą pracować, aby utrzymać służbę zdrowia, transport, sieć sprzedaży, a często po prostu samych siebie.
Proklimatyczne utopie, czyli nasza przyszłość
Jednak powyższa wizja codzienności w izolacji, to nie tylko opis dnia osób, które mogą przeczekać pandemię koronawirusa pracując z domu. To wizja świata przyszłości opisana w książce The Future We Choose. Surviving the Climate Crisis, autorstwa Christiany Figueres i Toma Rivetta-Carnaca. Ograniczenie mobilności i nakierowanie na lokalne życie sąsiedzkie, to kluczowy wymiar wizji alternatywnej przyjaznej klimatowi codzienności, aczkolwiek nie jedyny. Inne elementy też już są wokół nas, jednak nie są jeszcze powszechnym doświadczeniem.
W proklimatycznej przyszłości, poza ograniczeniami będzie też sporo udogodnienień: inteligentne technologie będą ograniczały zużycie energii i innych zasobów. W praktyce, sztuczna inteligencja będzie odcinać nieużywane urządzenia oraz zachęcać nas do takiego zarządzać energią, żeby jak najlepiej ją wykorzystywać – najpierw pokazując koszta i dając nam wybór, a następnie już wedle własnych kalkulacji. Wydajność tego systemu sprawi, że mimo rosnących cen energii nie spadnie nasza jakość życia. W dużej mierze również dlatego, że wiele budynków będzie produkować energię na własny użytek. Podobnie z wodą – poza zmniejszeniem zużycia, będziemy ją również gromadzić w przydomowych zbiornikach. Również żywność zacznie być wytwarzana lokalnie, również w miastach. Część w przydomowych ogródkach.
Figueres i Rivett-Carnas zakładają również, że jedzenie będzie coraz droższe, co niekoniecznie musi być złe, bo stanie się przez to dla nas bardziej wartościowe. Ze względu na mniejszą ilość wody i konieczność odpowiedzialnego zarządzania zasobami, większość produkcji żywności będzie opierać się na uprawie roślin. Przemysł mięsny i nabiałowy będą zbyt kosztochłonne, żeby je utrzymać. Pozostaje jedynie rybołówstwo, ale też w ograniczonym zakresie. Podatki na mięso, cukier i niezdrową żywność sprawią, że ludzie będą zdrowsi, a służba zdrowia mniej obciążona chorobami cywilizacyjnymi, takimi jak: cukrzyca, miażdżyca, rak czy inne. Będziemy wciąż jeść słodycze, ale lepszej jakości i znacznie rzadziej.
Elementem wizji jest też rozwój teleopieki i teleedukacji sprawi, że będzie ona bardziej dostępna w każdym miejscu świata, a odnawialne źródła energii dostarczą prąd tam, gdzie go teraz brakuje. To ostatnie nie wydaje się być kluczowym wyzwaniem dla Europy, ale nie wiadomo jak długo. W lecie byliśmy o włos od przeciążenia centralnych sieci energetycznych. Obecnie, nawet jeśli widzimy szkołę z okna, to lekcje odbywają się wyłącznie online. Podobnie z lekarzem – lepiej napisać lub zadzwonić niż iść do przychodni. Dla dobra własnego i wszystkich innych.
Przyszłość opisana w The Future We Choose, to tylko jedna z wielu wizji przyszłości, ale bardzo reprezentatywna do innych, które snują osoby marzące o bardziej zrównoważonym ekologicznie i bezpieczniejszym świecie. W tym również ja. Ograniczenie podróży (zwłaszcza lotów) oraz skupienie się na życiu lokalnym jeszcze do niedawna brzmiało jak marzenie ściętej głowy, a w najlepszym wypadku odległa przyszłość, której doświadczą bardziej nasze dzieci i wnuki niż my sami. Chyba, że coś się zmieni…
Ta zmiana właśnie nastąpiła. Świat na chwilę się zatrzymał. Koronawirus zmusił nas do prototypowania alternatywnej zrównoważonej wizji przyszłości tu i teraz. Właśnie tej, która ma ocalić planetę.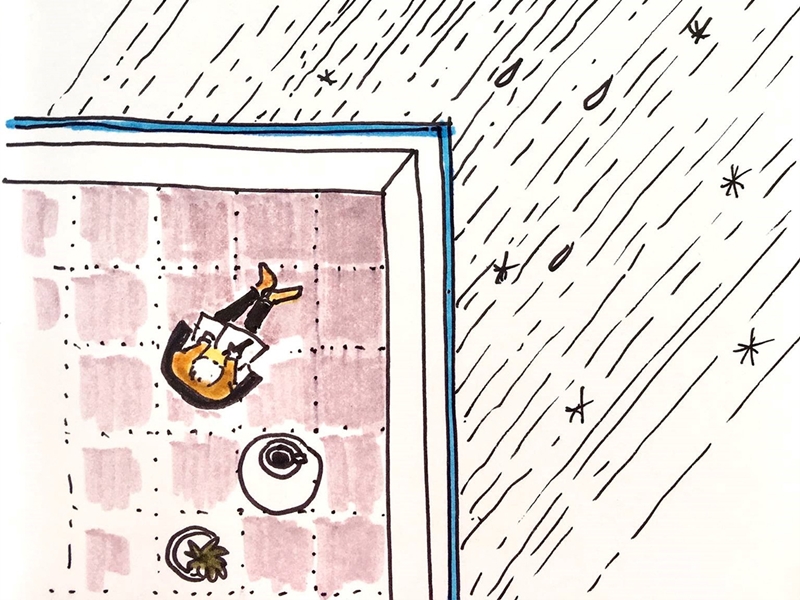 Niemożliwe staje się możliwe
Świat, w którym się właśnie znaleźliśmy, jest radykalnie inny od tego sprzed tygodnia. Niezależnie, czy przymusowa kwarantanna jest spełnieniem waszych najskrytszych marzeń, czy czujecie się jak w klatce, jedno jest pewne – nie ma powrotu do tego, co było. Przymusowa izolacja związana z pandemią sprawiła, że zmieniły się nasze codzienne nawyki. Żyjemy bardziej lokalnie oraz wspólnotowo i z większą odpowiedzialnością za innych,  czego dowodem są wywieszane na klatkach propozycje robienia zakupów osobom starszym. Jeśli przyniesienie zakupów może ocalić komuś życie, to warto to zrobić. Obecna sytuacja sprawia, że to już nie firmy dostarczają różnego rodzaju dobra, ale sąsiadki i sąsiedzi. To nie tylko odruch serca –  zatkał się system. Musimy szukać alternatyw nie tylko ze względu na nasze poglądy, ale również dlatego, że po prostu zmienił się kontekst.
Chcąc nie chcąc, zaczęliśmy testować wizję zrównoważonego świata przyszłości. Strach przed zarażeniem i potencjalną śmiercią okazał się silniejszy niż katastroficzne wizje świata w 2050 roku snute przez działaczki i działaczy proklimatycznych. Okazało się, że to, co dotychczas było niemożliwe, nagle stało nie tylko możliwe, ale konieczne. Być może dzięki temu nasza cywilizacji obudzi się i jednak przetrwa – w zmienionej formie, ale przetrwa.
Ale idźmy za ciosem. Skoro już okazało się, że możemy żyć lokalnie, bo musimy, to uznajmy obecną sytuację nie za stan wyjątkowy, po którym wrócimy do naszego codziennego normalnego życia. Potraktujmy ją jako ostrzeżenie przed kolejnymi losowymi sytuacjami, które będą testem dla struktur państwowych i dla naszej solidarności. Zadajmy sobie pytanie, które zadaje sobie obecnie wiele firm: Co jeśli to będzie się powtarzać? Co jeśli obecna sytuacja nie jest wyjątkiem od reguły, ale nową regułą? Dla korporacji pytaniem jest: czy wszystkie dane mamy w chmurze? Dla wielu przedsiębiorstw: jak zautomatyzować i usprawnić proces produkcji, żeby jedna chora osoba nie zatrzymała całej firmy?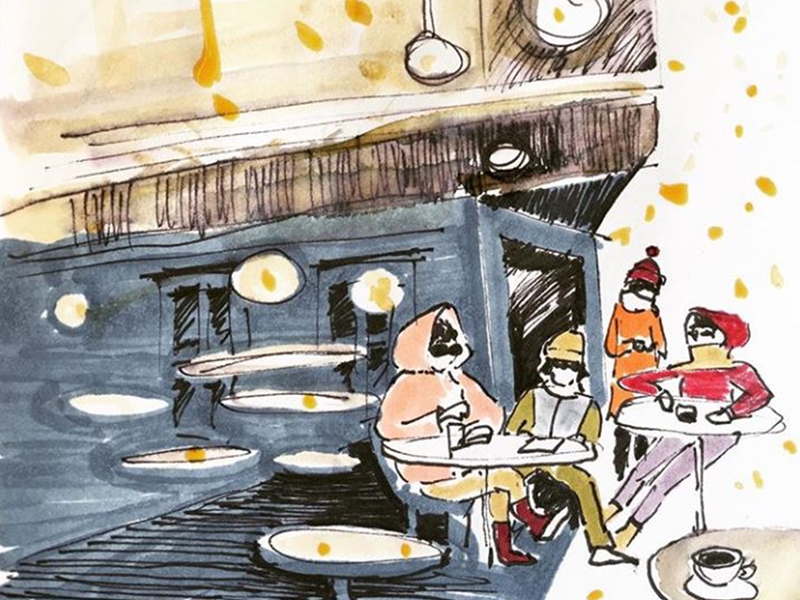 Natomiast pytanie, które powinniśmy sobie zadać wszyscy brzmi: Jak powinny wyglądać nasze budynki i osiedla, żebyśmy mogli przetrwać kolejną kwarantannę? Jest to pytanie, które powinna również zadawać sobie branża deweloperska, bo ucieleśniony strach przed izolacją i brakiem dostępu do podstawowych środków potrzebnych do życia zostanie w naszych ciałach. Możemy trzymać zapas papieru toaletowego, makaronu i ryżu, ale szukając nowego miejsca do mieszkania przypomną nam się te dwa tygodnie kwarantanny, albo i więcej – w końcu nie wiemy, jak się sytuacja potoczy. Dlatego dobrze jest tak projektować miasta i osiedla, żeby móc się na nich czuć bezpiecznie – i niekoniecznie musi to znaczyć budowanie twierdzy, ale samowystarczalnego energetycznie i żywieniowo osiedla, gdzie bezpieczeństwo w dużej mierze opiera się na sile więzi społecznych.
Po aktualnej kwarantannie w tyle głowy będziemy mieć to, że sytuacja może się powtórzyć. Niezależnie od tego, czy będzie to kolejny atak koronawirusa zimą, który może nastąpić po ciepłym lecie, czy jakaś inna okoliczność. Wiemy już jedno: dobrze znać swoje sąsiadki i swoich sąsiadów, zwłaszcza jak jest się osobą starszą. Dobrze też mieć sklep w najbliższej okolicy, w promieniu dojścia spacerem, bo każde wejście do transportu publicznego, to szansa na zarażenie siebie lub kogoś innego, a centra handlowe mogą zostać zamknięte. Ważna jest również architektura budynku.
Przykład włoski, gdzie tłumy zebrały się na balkonach, aby wspólnie śpiewać i imprezować, pokazuje, że warto mieć balkony. Przydadzą się one również jak trzeba będzie hodować żywność lokalnie, albo na starość trudno nam będzie wyjść na zewnątrz.
Kolejna kwestia to dostawy – obecnie robią to ludzie, którzy dostarczają nam przesyłki narażając swoje zdrowie. A jednocześnie każdy kontakt z inną osobą, to ryzyko zarażenia. Na czas kryzysu, przesyłki mogłyby wyłącznie dostarczać drony, które zrzucałyby paczki do specjalnie wyznaczonych miejsc na podwórkach albo na dachach budynków (takie odwrócone zsypy na śmieci połączone z pocztą pneumatyczną) albo niewielkie pojazdy autonomiczne. Dostawy mogą ułatwić również paczkomaty blisko każdego domu – wszystko bezdotykowo. Bezpiecznym rozwiązaniem są również osiedlowe kioski w budynkach, które mogą w razie potrzeby działać w trybie "przez okienko". A jeśli będziemy chcieli pojechać gdzieś dalej, to w czasach pandemii, najbezpieczniejszy będzie rower.
Wspomnienie kwarantanny pomoże nam podejmować właściwe decyzje
Bezpieczny świat przyszłości i większa lokalność to nie tylko izolacja, ale również więcej czasu na życie sąsiedzkie i towarzyskie, którego zresztą zaraz będziemy w większości spragnieni. Docenienie relacji międzyludzkich i wartości więzi sąsiedzkich może w końcu sprawi, że władze lokalne będą chętniej dawać pustostany na miejsca aktywności lokalnej i klubokawiarnie o niskim czynszu, na które stać będzie nie tylko klasę średnią. Zwłaszcza, że jeśli obecny eksperyment z pracą zdalną pokaże, że wiele z nas nie musi pracować koniecznie z biura to lokalne kawiarnie pełniące również funkcje coffee-office czy wręcz coworków, staną się zdecydowanie bardziej popularne. Praca zdalna to możliwość lepszego skupienia się, ale też i samotność.
Przyszłość projektowania miast i osiedli będzie musiała się opierać na balansowaniu pomiędzy dwoma skrajnościami: sąsiedzkością i bliskością, a możliwością radykalnego odcięcia się w sytuacji kryzysu. Lepszym rozwiązaniem będzie dużo małych miejsc spotkań niż jeden centralny dzielnicowy dom kultury. Lokalne siłownie jako alternatywa dla tych w centrum, które mają większą rotację. Małe sklepy blisko domu, a nie duże markety w większej odległości. To ostatnie zresztą już się dzieje, bo supermarkety zmieniają się w osiedla, a sklepy internetowe, w tym te z żywnością, stają się coraz bardziej popularne. Lepiej mieć blisko elastyczne wielofunkcyjne przestrzenie, które można dowolnie ustawiać niż te jasno przypisane do funkcji, bo nie tylko są tańsze w utrzymaniu, ale w razie potrzeby można łatwo taką salę przekształcić na szpital albo magazyn żywności.
Do tej pory chcąc stwierdzić, czy miasto/osiedle/mieszkanie jest dobrze zaprojektowane, najczęściej patrzyliśmy przez jeden z trzech filtrów: dostępności-starzenia się (czy osoba starsza i osoba z niepełnosprawnością będzie miała wygodnie), rodzinny-dziecięcy (czy dzieci będą bezpieczne i będą mogły same chodzić do szkoły i bawić się w okolicy?) oraz klimatyczny (do jakiego stopnia szkodzimy planecie? I co możemy z tym zrobić?).
Teraz doszedł czwarty filtr – epidemiologiczny i pytanie: Jak poradzimy sobie w danym miejscu w przypadku kwarantanny? Dobrą wiadomością jest to, że niezależnie od tego, którą z perspektyw przyjmiemy, to zaprojektujemy podobne przestrzenie. Te narracje są w większości zbieżne. Pytanie tylko, która nas zmobilizuje najbardziej do działania. Możliwe, że właśnie ta ostatnia, bo masowo dotyka nas wszystkich. Teraz naszym zadaniem jest sprawić, żebyśmy myśląc o kwarantannie widzieli autonomiczne przyjazne ekologiczne osiedla, a nie koszary.
Przez czas kwarantanny będziemy żyć bardziej ekologicznie, przynajmniej przez jakiś czas, ale wiele osób ucierpi – nie tylko ze względów zdrowotnych, ale również ekonomicznych. To czas dla nowych rozwiązań. Obecny kryzys i pozbawienie pracy zarobkowej wielu osób pracujących w sektorze usług na umowy zlecenie, sprawia, że rozwiązania bliskie powszechnemu dochodowi gwarantowanemu stają się wyzwaniem współczesnym – z tą tylko różnicą, że to nie automatyzacja pozbawia ludzi pracy, ale pandemia. Również temat mieszkaniowy, to nie tylko dobre projektowanie pod kolejne kryzysy, to też pytanie o redystrybucję: banki zawieszą spłaty kredytów, a co w przypadków osób, które wynajmują mieszkania i płacą za nie połowę swoich dochodów? W końcu duża część z nich, to osoby, które pracują w najbardziej niestabilnym segmencie gospodarki – ten sam mechanizm, który uniemożliwia im wzięcie kredytu, może ich teraz pozbawić dachu nad głową.
Jakakolwiek będzie przyszłość, to wiemy jedno – będzie inna niż do tej pory. Kryzysowe zarządzanie wywołane przez koronawirusa w pełni pokaże silne i słabe strony naszego państwa, społeczeństwa i nas samych.
Kolejne kilkanaście dni nie będzie łatwe, bo stoimy przed nieznanym, a poczucie braku kontroli sprawia, że w głowie pojawiają nam się katastroficzne scenariusze. Zwłaszcza teraz warto czytać książki o lepszej przyszłości. Moją listę znajdziecie na Instagramie i Facebooku pod #erbelczyta. Są tam zarówno lektury klimatyczne, jak i te o przyszłości pracy. Potrzebujemy tych narracji, żeby odpowiedzialnie odpowiedzieć na sytuację, w której się znaleźliśmy i wykorzystać moment zmiany. Nasze ciała będą pamiętać ten kryzys i przypominać nam o nich, jak przyjdzie do podejmowania strategicznych decyzji, więc warto zaprząc te dobre i złe doświadczenia w realizowanie wizji lepszego świata. Już wiemy, że nie ma, że się nie da. Granice już są gdzie indziej, a pytanie, które sobie zadajemy brzmi: Czy dane rozwiązanie sprawi, że przetrwamy? Nie traćmy czasu. Wymyślmy odpowiedź zanim będzie za późno.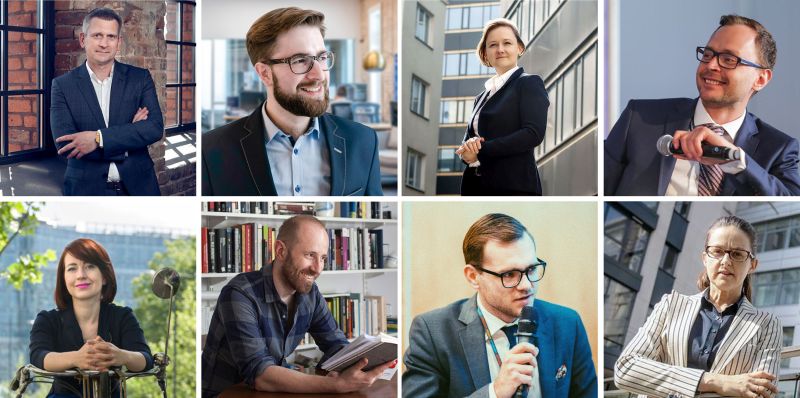 Artykuł został stworzony w ramach prac Laboratorium Rynku Najmu – grupy ekspertów zajmujących się tworzeniem standardów dla rozwoju najmu instytucjonalnego w Polsce. W skład LRN wchodzą: Tomasz Bojęć, Przemysław Chimczak, Adam Czerniak, Joanna Erbel, Mateusz Halawa, Katarzyna Kuniewicz, Hanna Milewska-Wilk, Waldemar Olbryk. Więcej o celach prac zespołu oraz jego członkach i przeczytacie tutaj: https://thinkco.pl/laboratorium-rynku-najmu/
---
Socjolożka, działaczka miejska, ekspertka do spraw mieszkaniowych. Założycielka Fundacji Blisko zajmującej się wspieraniem aktywności lokalnych i tworzeniem wiedzy na temat innowacji mieszkaniowych. Koordynowała prace nad przygotowaniem polityki mieszkaniowej i programu Mieszkania2030 dla m.st. Warszawy. Członkini grupy eksperckiej Laboratorium Rynku Najmu. Autorka książki "Poza własnością.
W stronę udanej polityki mieszkaniowej". Mieszka w Warszawie na Górnym Mokotowie, jeździ do pracy rowerem i marzy o tym, żeby każda osoba mogła żyć w przyjaznej przestrzeni i dostępnym cenowo mieszkaniu.
Other articles